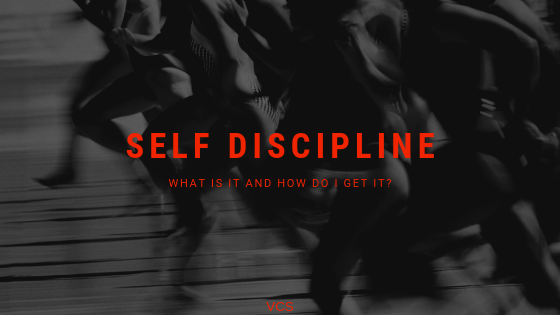 "In reading the lives of great men, I found that the first victory they won was over themselves...
self-discipline with all of them came first"
- Harry S Truman
We all have goals. Whether it is through the New Year's Resolution you made or just general self improvement we are all looking for ways to be successful and reach our goals. Then life gets in the way and we can't stay motivated and end up losing our way. As mentioned in a previous post, we then get in the habit of waiting for motivation to hit us again before pursuing what we need to get done. I believe that it isn't more motivation, but self discipline that we need to add to our lives. Motivation while helpful, it is also fleeting and unreliable. When done right, self discipline can be the consistent driving force you need in life to be successful.
The simplest way to explain self discipline is the discipline of training yourself. Recognizing that you need the control, focus, and accountability to stay on track and do what is right. It's a habit and like all habits may be hard to master in the beginning but becomes easier with time. The more you use this habit, the more it gives back until self discipline becomes part of your character. Countless successful people both past and present have stated that the dividing line between winners and loser is their self discipline.
So how can you cultivate more Self Discipline into your life?
Some people just need the tough love approach. Make fun of Nike all you want, but their "Just Do It" advertising campaigned is something that has inspired a lot of people to get up off the couch and literally just do it. It doesn't matter if it was a walk around the block or a marathon, the idea of stop thinking about it and just take action can be powerful. If you just need to give yourself a little bit of mental tough love then I suggest starting slow with small steps. When thinking about what stops us from moving forward with our goals it is usually because that action makes us uncomfortable. It is a natural disposition for us to seek things that feel good and safe. Working towards a goal is a risk which takes a level of vulnerability. It can feel uncomfortable, raw, and downright unsafe depending on the risk you are taking. I encourage you to lightly lean in to that discomfort a little bit at time. Intentional tiny leaps have a tendency to create big changes.
Other people need a bit more than just tough love and a mental shake up. Structure is what you're looking for and it comes in many forms. First recognizing the pitfalls of where you lack or lose self discipline and plan accordingly. One big pitfall I see a lot is forgetting to replace the absence of the bad habit with a good habit. When your goal is just to quit smoking, you have to realize that that is only part of your goal because in place of your smoke break you now just find yourself with more time to think about smoking. Instead, replace the smoking break with something positive such as a walk, a quick meditation, or a nice chat with a coworker.
Another way to add structure is to create accountability. Keeping a food journal is an example of self accountability, but I find that most people need something more. Create a buddy system with a friend, ask family to check in with you on your progress, or seek a Motivation Therapist that you pay to keep you accountable. It is amazing what we achieve when we know we have to answer to someone.
One of the best ways to add structure is through rewards. Make sure when you achieve something even if it seems small to reward yourself. That doesn't mean if your goal is to lose weight to reward yourself with a chocolate cake after you lose 2 pounds. Create a reward system that is reasonable and will increase positive reinforcement. The goal is to make yourself feel genuinely good about yourself for taking that action that lead you to this achievement. If you feel good about it you are then more likely to do it again.
Finally and probably the most important aspect with self discipline is to remember self compassion. You are going to have hard days and you're going to have times when you fail. That is part of being human. Remember what you would tell someone you love who has failed and say it to yourself. Say it 100 times if you need to and then get back up to try again.